Helping Your Teen Daughter Balance Foot Health and Fashion
Tuesday, 16 November 2021 00:00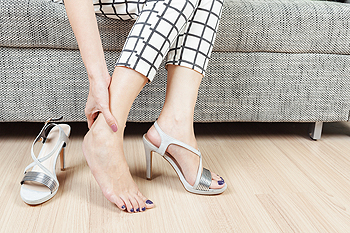 You can help your teenage daughter strike a healthy balance between foot health and fashion. Encourage them to wear more supportive footwear (which can still be cute) on a daily basis, while reserving high heels for special occasions. Explain that wearing high heels regularly can damage their muscles and even change their gait. Go over modifications that can help mitigate any damage caused by high heels while still satisfying their desire to be fashionable. For instance, 1 or 2 inch heels can cause fewer foot issues than 4 inch heels. Wider high heels help distribute body weight much more evenly than stilettos, and wider toe boxes avoid toes being squished from pointy or narrow-toed shoes that place excessive pressure on the bones of the foot. When you take them shoe shopping, help them choose footwear that fits well and is comfortable right then and there, rather than buying tighter shoes with the hope of stretching them out at home. Most flip flops do not provide adequate support either and should only be worn getting to and from the beach, in public places that are wet (around pools, in locker rooms and public showers, etc.) and for short periods of time. For more tips on proper footwear and foot care for your teenager, contact a podiatrist.
The health of a child's feet is vital to their overall well-being. If you have any questions regarding foot health, contact Dr. Kirk Sherris of Liberty Bay Foot & Ankle. Our doctor can provide the care you need to keep you pain-free and on your feet.
Tips for Keeping Children's Feet Healthy
Make sure their shoes fit properly
Look for any signs of in-toeing or out-toeing
Check to see if they have Clubfoot (condition that affects your child's foot and ankle, twisting the heel and toes inward) which is one of the most common nonmajor birth defects.
Lightly cover your baby's feet (Tight covers may keep your baby from moving their feet freely, and could prevent normal development)
Allow your toddler to go shoeless (Shoes can be restricting for a young child's foot)
Cut toenails straight across to avoid ingrown toenails
Keep your child's foot clean and dry
Cover cuts and scrapes. Wash any scratches with soap and water and cover them with a bandage until they've healed.
If you have any questions, please feel free to contact our office located in Poulsbo, WA . We offer the newest diagnostic and treatment technologies for all your foot care needs.
Read more about How to Care for Your Child's Feet