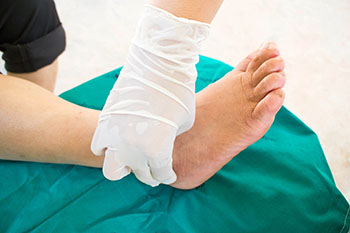 Diabetics must be wary of all wounds, regardless of depth or size. Diabetes, a chronic disease in which the body cannot properly use glucose the way it normally would, causes various complications that make wounds difficult to heal. Nerve damage or neuropathy can cause diabetics to have trouble feeling the pain of a blister or cut until the condition has significantly worsened or becomes infected. A diabetic's weakened immune system can make even the most minor of wounds easily susceptible to infection. Diabetics are also more prone to developing narrow, clogged arteries, and are therefore more likely to develop wounds.
Wounds should be taken care of immediately after discovery, as even the smallest of wounds can become infected if enough bacteria build up within the wound. To remove dirt, wounds should first be rinsed under running water only. Soap, hydrogen peroxide, or iodine can irritate the injury and should be avoided. To prevent infection, apply antibiotic ointment to the wound and cover it with a bandage. The bandage should be changed daily. The skin around the wound may be cleaned with soap.
To prevent further exacerbation, see a doctor—especially if you have diabetes. Minor skin conditions can become larger problems if not properly inspected. As the wound heals, make sure to avoid applying pressure to the affected area. Specialized shoe inserts or in some cases molded shoes may be indicated to help prevent breakdown of skin by alleviating excessive/persistent contact over abnormal pressure point areas of the foot or ankle.
We are experienced in treating chronic wounds/ulcerations of the foot and ankle. Our goal is to provide assistance in healing the current wound(s) and to help avoid recurrence of existing wounds once healed as well as prevent formation of new ulcerations.