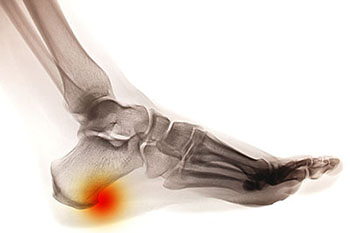 Heel spurs are the result of calcium deposits that cause bony protrusions on the underside of the heel. Heel spurs are usually painless, but they have the potential to cause heel pain. Heel spurs tend to be associated with plantar fasciitis, which is a condition that causes inflammation of the band of connective tissue that runs along the bottom of the foot. They often occur to athletes whose sports involve a lot of running and jumping.
Some risk factors for developing heel spurs include running and jogging on hard surfaces, being obese, wearing poorly fitting shoes, or having walking gait abnormalities.
It is possible to have a heel spur without showing signs of any symptoms. However, if inflammation develops at the point of the spur's formation, you may have pain while walking or running. In terms of diagnosis, sometimes all a doctor needs to know is that the patient is experiencing a sharp pain localized to the heel to diagnose a heel spur. Other times, an x-ray may be needed to confirm the presence of a heel spur.
Heel spurs can be prevented by wearing well-fitting shoes that have shock-absorbent soles. You should also be sure that you are choosing the right shoe for the activity you want to partake in; for example, do not wear walking shoes when you want to go on a run. Additionally, maintaining a healthy weight can be beneficial toward preventing heel spurs, as it will prevent an excess amount of pressure being placed on the ligaments.
There are a variety of treatment options for people with heel spurs. Some of these include stretching exercises, physical therapy, shoe inserts, orthotics, or taping and strapping to rest stressed muscles and tendons. If you have heel pain that lasts longer than a month, don't hesitate to seek help from a podiatrist. Your doctor can help you determine which treatment option is best
Dr. Sherris specializes in treatment of heel pain (non-surgical and surgical). Specific treatment is offered and provided depending on the cause and patient needs. If you have experienced heel pain and would like to discuss this with Dr. Sherris, an examination and evaluation with possible x-rays and/or other diagnostic testing can be performed in our clinic for your convenience to help determine the severity and cause of your particular condition.
"Based on clinical findings, patient goals and my experience along with continuously updated knowledge in evaluating and treating heel pain, I work with my patients to make a cooperative decision based on what is best for them in each individual case." – Dr. Sherris