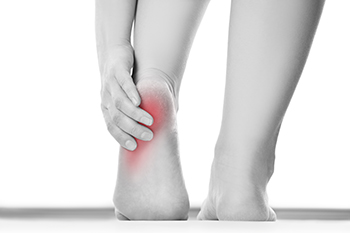 Heel pain can be difficult to deal with, especially if you do not know what the underlying cause is. If you ignore your heel pain, the pain can magnify and potentially develop into a chronic condition. The specific location of your heel pain helps determine what condition is causing your symptoms.
One condition is plantar fasciitis. Plantar fasciitis is caused by the inflammation of the plantar fascia, or the band of tissue that connects the heel bone to the base of the toes. The pain from this condition can intensify as more steps are taken when you wake up in the morning. Plantar fasciitis is often associated with heel spurs; both require rest and special stretching exercises. \
There are various options your podiatrist may suggest for heel pain. Treatment options for heel pain typically include non-steroidal anti-inflammatory drugs (NSAIDS), which may reduce swelling and pain. Other options are physical therapy, athletic taping, and orthotics. In severe cases of heel pain, after nonsurgical methods have been attempted, surgery may be required.
Preventing heel pain is possible. If you are looking to prevent heel pain from developing in the future, be sure to wear shoes that fit you properly and do not have worn down heels or soles. Be sure to warm up properly before participating in strenuous activities or sports that place a lot of a stress on the heels. If you are experiencing any form of heel pain, speak with your podiatrist to determine the underlying cause and receive the treatment you need.
Dr. Sherris specializes in treatment of heel pain (non-surgical and surgical). Specific treatment is offered and provided depending on the cause and patient needs. If you have experienced heel pain and would like to discuss this with Dr. Sherris, an examination and evaluation with possible x-rays and/or other diagnostic testing can be performed in our clinic for your convenience to help determine the severity and cause of your particular condition.
"Based on clinical findings, patient goals and my experience along with continuously updated knowledge in evaluating and treating heel pain, I work with my patients to make a cooperative decision based on what is best for them in each individual case." – Dr. Sherris