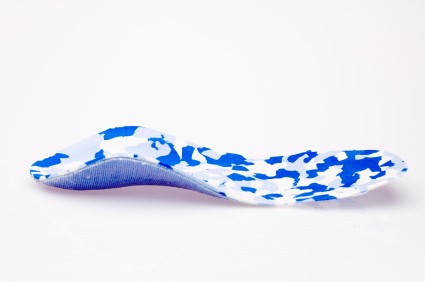 Orthotics are shoe inserts that are meant to correct an irregular walking gait pattern (functional orthotics)or provide cushioning to the feet (accommodative orthotics). Orthotics are more specific than over-the-counter arch supports in treating particular foot or ankle conditions and they come in a variety of different models and sizes depending on the particular condition being treated. Customizable orthotics can be shaped and contoured to fit inside a specific shoe and are typically prescribed through a podiatrist such as Dr. Sherris who specializes in customized footwear and orthotics design and management.
Orthotics are beneficial because they can help prevent injuries from occurring and provide cushioning to keep pain levels down to a minimum. They allow for the correct positioning of the feet and can act as shock absorbers to help remove pressure from the foot and ankle. Therefore, orthotics can make bodily movements, such as walking and running, become more comfortable as well as help prevent the development of certain foot conditions.
Orthotics alleviate pain and make the foot more comfortable by slightly altering the angle at which the foot strikes the ground surface, therefore controlling the movement of the foot and ankle. Orthotics come in different variants and can be made of various materials. To determine what type of orthotic is most suited to your feet and your needs, it is best to consult your podiatrist. He or she will be able to recommend a type of orthotic that can help improve your foot function or prescribe a custom orthotic to best fit your feet.
At Liberty Bay Foot and Ankle, our podiatrist devotes a substantial portion of his practice to evaluating and treating conditions that are effectively treated with prescription orthotics such as flatfoot, heel/arch pain and several other conditions affecting the foot and ankle. In some cases arch supports may be effective in relieving symptoms and in other cases prescription orthotics may be recommended to most effectively realign the foot.