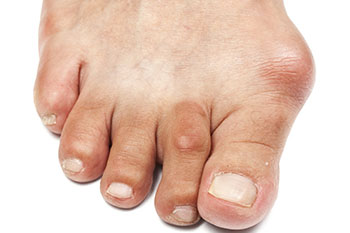 A bunion is an enlargement of the base joint of the toe that connects to the foot, often formed from a bony growth or a patch of swollen tissues. It is caused by the inward shifting of the bones in the big toe, toward the other toes of the foot. This shift can cause a serious amount of pain and discomfort. The area around the big toe can become inflamed, red, and painful.
Bunions are most commonly formed in people who are already genetically predisposed to them or other kinds of bone displacements. Existing bunions can be worsened by wearing improperly fitting shoes. Trying to cram your feet into high heels or running or walking in a way that causes too much stress on the feet can exacerbate bunion development. High heels not only push the big toe inward, but shift one's body weight and center of gravity towards the edge of the feet and toes, expediting bone displacement.
A podiatrist such as Dr. Sherris who is knowledgeable in foot structure and biomechanics will be able to quickly diagnose bunions. Bunions must be distinguished from gout or arthritic conditions, so blood tests may be necessary. The podiatrist may perform a radiological exam to provide an image of the bone structure. If the x-ray demonstrates an enlargement of the joint near the base of the toe and a shifting toward the smaller toes, this is indicative of a bunion.
Wearing wider shoes can reduce pressure on the bunion and minimize pain, and high heeled shoes should be eliminated for a period of time. This may be enough to eliminate the pain associated with bunions; however, if pain persists, anti-inflammatory drugs may be prescribed. Severe pain may require an injection of steroids near the bunion. Orthotics for shoes may be prescribed which, by altering the pressure on the foot, can be helpful in reducing pain. These do not correct the problem; but by eliminating the pain, they can provide relief.
For cases that do not respond to these methods of treatment, surgery can be done to reposition the toe. A foot surgeon such as Dr. Sherris may do this by taking out a section of bone and/or by re-aligning the bone and rearranging the ligaments and tendons in the toe to help keep it properly aligned.
Dr. Sherris specializes in treatment of bunions both surgically and non-surgically. If you think you have a bunion and would like to discuss this with Dr. Sherris, x-rays can be obtained in our clinic for your convenience to help determine the severity of your particular condition.
"Based on clinical findings, patient goals and my experience along with continuously updated knowledge in surgically and non-surgically treating bunions, I work with my patients to make a cooperative decision based on what is best for them in each individual case." – Dr. Sherris